European FinTech Hackcelerator 2021
This year we are turning green! #greenfinance
European FinTech Hackcelerator is an international, tailor-made program for FinTech startups ready to conquer the ASEAN market. It is implemented in close cooperation with the Global FinTech Hackcelerator, organized as part of the Singapore FinTech Festival. It aims to identify leading European green finance startups and support them in establishing business relationships and expanding to Singapore. This program is organized by Accelpoint – an international partner of the Global FinTech Hackcelerator 2021.
Opportunity for additional benefits
20th of September: applications deadline
June - 20th of September
We are scouting for startups and accepting applications on our website until the 20th of September.
Data Demo Day: 28th September: Winner Announcement
28th September
Selection of up to 10 startups that will be contenders for the Demo Day Presentation @ Singapore FinTech Festival 2021. Out of this group, we will pick the two finalists. S$20.000 Cash Stipend
Programme start: TBC
October
Winner of the EFH '21 will get an opportunity to join the ongoing workshop programme with Singaporean partners (organised by SFF)
8th - 13th of November: SFF
November
Demo Day Presentation of the EFH '21 winner @ Singapore FinTech Festival 2021 Main Prize: S$50.000
 Chance for PoC with S$200.000 grant
"In 2021 EFH is turning green. European startups are particularly well-positioned to promote their sustainable and green finance services. It is good to think of Singapore as a gateway to Asia, but also of the Singapore Fintech Festival as an opportunity to find new business partners from all over the world. For many years, every major player in the Financial Services sector is present at the SFF."
"I am extremely proud that for the second time Accelpoint has become the European partner of Global FinTech Hackcelerator organized by Singapore FinTech Festival. The program will strengthen international relations, bridge our FinTech ecosystems and help European startups in entering the ASEAN market."
Join the Green
Finance revolution and expand your business to Singapore!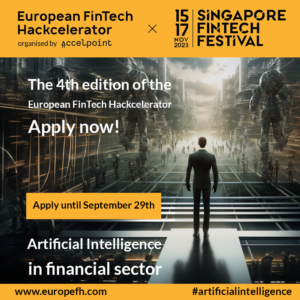 EFH
Are you the founder of a breakthrough AI technology, that might be used financial sector? […]
Read More